January 17, 2022
Renovation Ideas For an Organized Home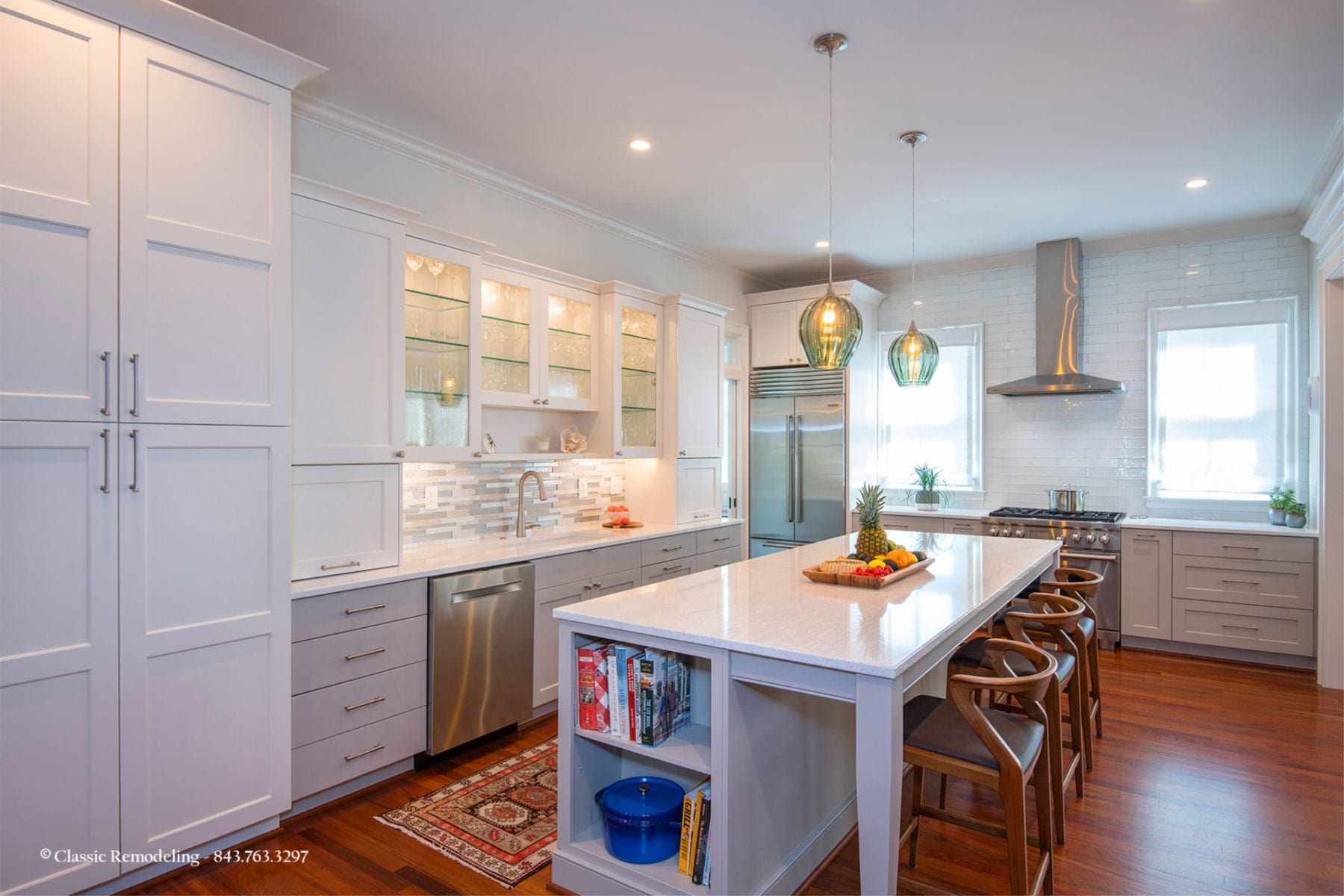 Keeping a clean, organized home has numerous health benefits like decreasing stress, improving sleep, and improving focus. Since January is National Get Organized Month there's no better time to clear out the clutter and head into the new year with an organized, clean home.   If you've been thinking about a renovation or have a remodeling project planned, make sure you set yourself up for success in the long-run with a few renovation ideas for an organized home. We've got a few suggestions for the most cluttered rooms in the house – the kitchen and the bathroom.
Before we dive into specific suggestions for the kitchen and bathroom, let's begin with the shell of your home. If you are looking for a feeling of improved organization and cleanliness, start with your floors. Hard surfaces in particular are easy to clean and can help reduce allergens and germs in the home. Beyond that, your paint color can also affect how organized and clean your home feels. Whites and neutrals can help a space feel larger than it is.
Before you begin any remodel or renovation project, it's a good practice to do a thorough clean out. Get rid of anything you no longer use or don't need. It helps make finding places to put the things you do need much easier.
Organizing in the Kitchen
Kitchens are the hub of most households. Where nightly meals are prepared, where family and guests gather for events, and maybe even where homework gets done. So it's a space that can easily become overwhelmed with "stuff." As you head into a remodel, it's good to think about how you use the space and what your needs are. Are you an entertainer with lots of platters and trays to store. Do you need a homework station for the kids? Do you have enough pantry storage? What about those small appliances?
As you think about your kitchen design, consider how you want to store things? Open shelves have been a popular selection in recent years, but in order to not feel cluttered you really need to keep items on them to a minimum. That's why we love our kitchen cabinets. Think about the items you need to store. Customizable cabinets and drawers provide easy access to the things you need regularly, as well as those that only get pulled out occasionally. Your designer can help guide you with some great ideas for how and where to store things like dishes, pots and pans, or spices. Perhaps you can add some specialized pull-outs in your cabinets for frequently used appliances, like a large mixer. Designate a pull out cabinet for trash cans, to keep them hidden from view. Even create a unique storage space for spices, ensuring they are kept near your cooking areas for easy access. The possibilities are endless!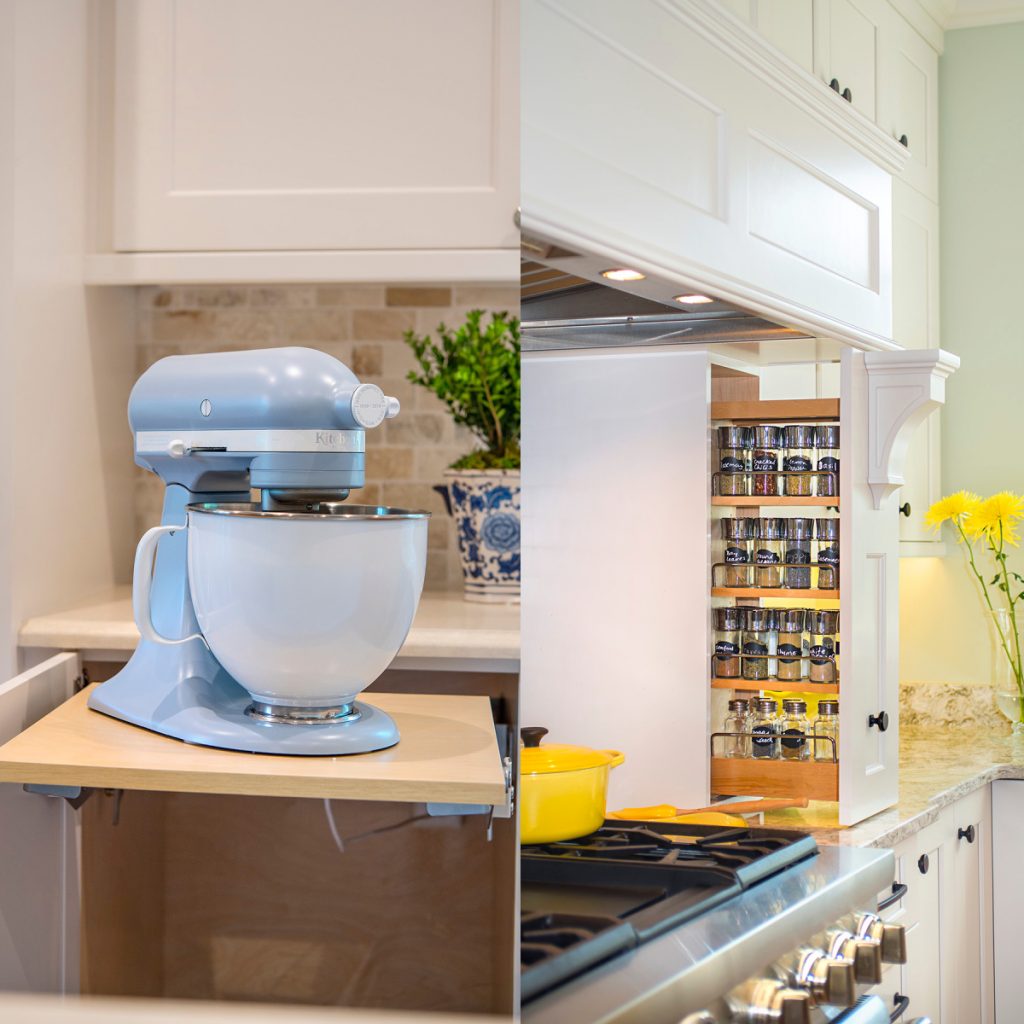 Storage Ideas for the Bathroom
Again, the best way to begin  is to consider how you use the space. Do you need a space for makeup? Consider adding a designated area specific to makeup storage.
Under sink cabinets are great for hiding away extra shampoo and soaps. Consider adding shelves to help keep your cabinets more organized. You can also add customized storage for things like hair dryers. Giving things a designated storage space will help keep things more organized.
If you have linen storage needs consider adding a linen closet or cabinet, if space allows. If you don't have space for a cabinet, try using baskets. They can serve double duty as decor to help soften a space, as well as provide needed storage.
In the shower, built-in shelving or niches are great for providing storage for everyday items. Add hooks or bars for towels or loofahs.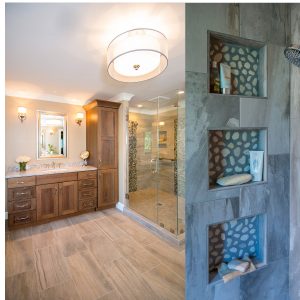 If you need renovation ideas to keep your home more organized, contact us at Classic Remodeling. We'd love to help you create a home to help you feel organized for stress-free living. For more bathroom and kitchen ideas, check out our online portfolio.