July 31, 2014
Classic in the News!

Charleston has been racking up the accolades again this year – #4 on the list of Best American Cities for Foodies (Conde Nast Traveler), #4 Most Romantic Getaway in the World (Fodor's), Friendliest City in America (Conde Nast), Top City in the US and #2 city in the world (Travel + Leisure), and named one of the Best Places to Retire (Forbes).We're certainly proud to be part of a city that receives so much positive recognition world-wide.
Over the last month, Classic Remodeling has also been on the receiving end of some great recognition.

The July/August issue of
Charleston Living Magazine
features the winners of their first annual "Best of Charleston" awards. Readers were invited to nominate their local favorites in a wide range of categories. We were thrilled to be named
"Best Kitchen and Bath Remodeler"
for 2014!
In the same issue, Classic Remodeling was prominently featured in an article by Erica England of GuildQuality, titled "Guildmaster Builder Awards." Classic is one of only 6 contractors nationwide to receive GuildQuality's Guildmaster award every year since the award was launched. The Guildmaster award recognizes residential construction companies who would be recommended by over 90% of their customers.
And, finally, the Charleston Regional Business Journalhighlighted our company's 25 years in business in the Milestone section of the July 14th issue.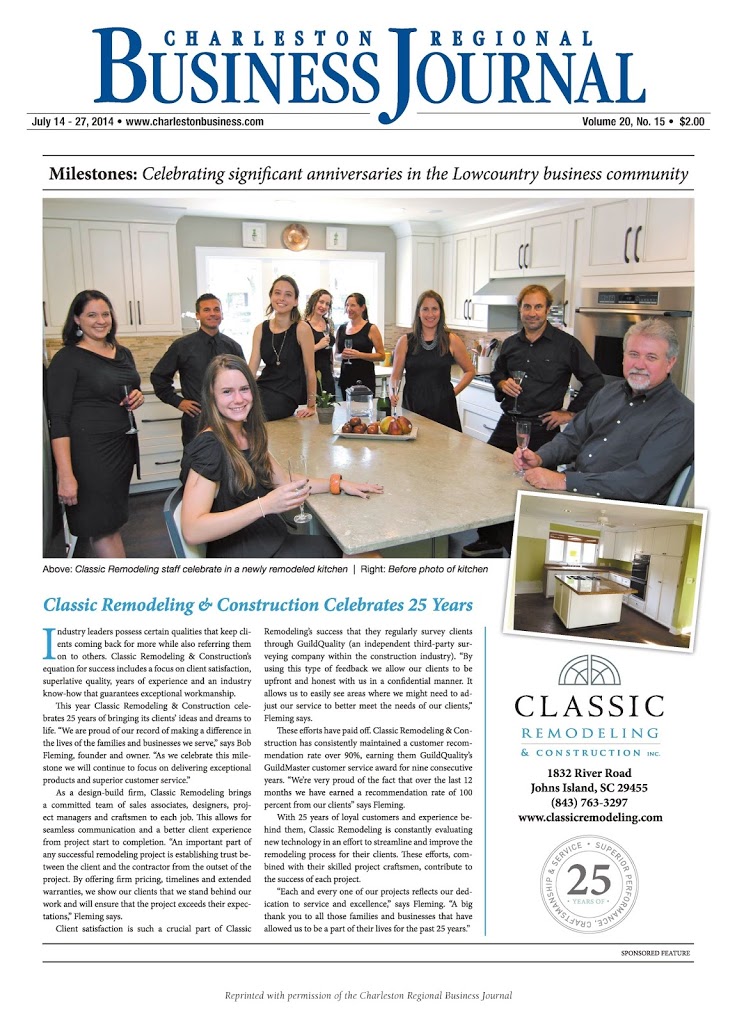 We're so proud of our accomplishments over these last 25 years and pleased to have worked with so many great clients throughout the Lowcountry. Here's to the next 25!