Classic Remodeling wins the Guildmaster Award for Customer Service again this year! This is the 18th consecutive Guildmaster win for Classic and we couldn't be more proud of our team for this achievement.
What is the Guildmaster Award?
The Guildmaster award is an annual award given out by GuildQuality, a third party surveying company we have used for the last 20+ years. In order to qualify for the Guildmaster award, eligible companies must receive a minimum of 20 survey responses and have at least a 50% response rate. In addition, GuildQuality looks at the recommendation rate for each eligible business. In order to receive a Guildmaster award, a company must have a recommendation rate of 90% or higher.
Out of nearly 2,000 eligible applicants, Classic Remodeling is one of 400+ businesses within the residential construction industry recognized by GuildQuality for consistently delivering superior customer care. This year, Classic received a 100% recommendation rate from survey respondents, earning us the title of Guildmaster with Highest Distinction!
WHAT IS A GUILDMASTER WITH HIGHEST DISTINCTION?
There are two levels of distinction in addition to the basic Guildmaster Award. Members with a recommendation rate between 95% and 97.9% receive the Guildmaster with Distinction award. The Guildmaster with Highest Distinction is awarded to companies with a recommendation rate between 98% and 100%. Classic Remodeling achieved a 100% recommendation rate in 2023! In addition, Classic Remodeling is the ONLY company in the GuildQuality network who has received the Guildmaster award each year since it's inception in 2005. That's 18 consecutive wins!
Industry challenges have continued over the past year – from labor shortages to product availability issues. Despite these issues, our team continues to put customer care first, so that our clients have the best possible remodeling experience.
A big "thank you" goes out, once again, to each of our clients who completed a GuildQuality survey. We appreciate the time you take to evaluate our performance.
Now that winter is finally over and spring is here, it's time to head outside to prep your home for the coming summer. Here are our top 6 home improvement projects for spring.
Gutters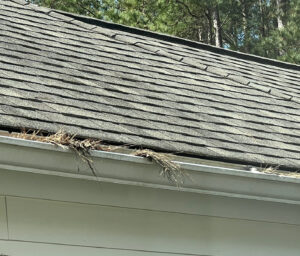 Falling leaves and rainy weather can leave your gutters clogged. This is a relatively simple DIY project that only requires a ladder and some elbow grease. Spring is a great time to remove all of the debris from your gutters to ensure they are doing their job properly. You can also invest in gutter guard systems to help keep the debris out, and save yourself the time and work next season.
HVAC
Now is the time to get your HVAC system checked out, to ensure no repairs are needed. Once the summer months hit, not only do you run the risk of being without A/C if your system goes down, you may also have difficulty finding a technician with availability.
Roof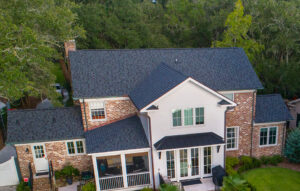 Spring is a great time to get out and inspect your roof for any damage or needed repairs. If you see visible damage, call for a repair as soon as possible. Taking care of any minor issues now can prevent major issues down the road. Need a new roof? Roof replacements are a great investment that can increase the value of your home. According to the 2023 Cost v. Value report from Remodeling Magazine, you can typically recoup about 70% of the cost of your new roof.
 Door and Window Screens
Inspect windows, doors, and screened porches for any screen damage. Ensuring there are no rips or tears will help keep those pesky flies and mosquitos out! You may be able to fix small tears yourself with just a few simple tools. For larger repairs or replacements, reach out to a professional.
Deck/Patio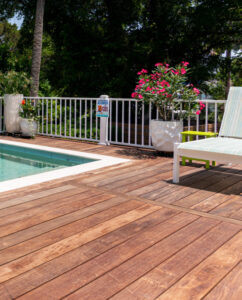 Head on outside to inspect your existing deck/patio for necessary repairs. Now is the time to replace boards, restain decks, or powerwash patios, so that your outdoor spaces are in tip-top shape and ready to enjoy for those summer family BBQs.
Windows and Doors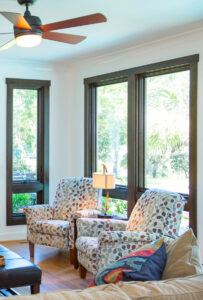 Charleston summers can be brutal, so ensuring your home is energy efficient and properly sealed is essential. Check all of your windows and doors to ensure they are weather-tight to help keep the cool air in and energy costs down.
We know the temps rise quickly here in Charleston, so don't delay! Get outside and tackle these 6 home improvement projects before the heat becomes unbearable. Keeping up on maintenance and repairs throughout the year can help you avoid major, costly repairs in the future.
Classic Remodeling & Construction was awarded a "Best of Houzz" award for Design,  on Houzz®, the leading platform for home remodeling and design. The annual people's choice award recognizes professionals among the Houzz community who stand out in both talent and customer service. Classic was chosen by the millions of homeowners that comprise the Houzz community from among more than 3 million active home building, remodeling and design industry professionals.
Best of Houzz awards are given annually, in three categories: Design, Customer Service and Photography. Design awards honor professionals whose work was the most popular among the Houzz community. Customer Service honors are based on several factors, including a pro's overall rating on Houzz and client reviews submitted in 2022. Architecture and interior design photographers whose images were most popular are recognized with the Photography award.
"Best of Houzz 2023" badges appear on winners' profiles as a sign of their commitment to excellence. These badges help the more than 65 million homeowners and home design enthusiasts on Houzz to identify popular and top-rated home professionals for their projects.
We're excited to receive this recognition again this year. This is our 8th Best of Design award and our 15th total Best of Houzz win, across both the design and customer service categories. This award is a symbol of the work that our entire team puts in each day, in an effort to produce the best designs and remodeling experience for our clients.
 "We are thrilled to highlight incredibly talented and customer-driven pros from the Houzz community through the Best of Houzz awards," said Liza Hausman, vice president of Industry Marketing for Houzz. "At Houzz, we strive to support professionals from building their brands and attracting clients, to managing their business efficiently and profitably, and collaborating with clients. The Best of Houzz awards provide a distinctive mark of credibility for homeowners looking for pros on Houzz. We congratulate all the winners for everything they've accomplished in 2022 and look forward to seeing their work and positive reviews in the year ahead."
You can see our work as well as client reviews by visiting our Houzz Profile.
 What is  Houzz
Houzz is the leading platform for home remodeling and design, providing an all-in-one software solution for industry professionals and tools for homeowners to update their homes from start to finish. Using Houzz, people can find ideas and inspiration, hire professionals, and shop for products. Houzz Pro (houzz.com/pro) provides home industry professionals with a business management and marketing SaaS solution that helps them to win projects, collaborate with clients and teams, and run their business efficiently and profitably. The Houzz community is made up of millions of homeowners, home design enthusiasts and home improvement professionals around the world. Houzz is available on the web and as a top-rated mobile app. For more information, visit houzz.com. Houzz is a registered trademark of Houzz Inc. worldwide.
Classic Remodeling was recently recognized for excellence in 2 publications. Qualified Remodeler has included Classic in it's top 100 in their recent customer satisfaction report. Additionally, and more locally, Charleston Living Magazine has awarded Classic their Best of the Best award for Kitchen/Bath Remodeling.
Qualified Remodeler's Customer Satisfaction Report – Top 100
Qualified Remodeler is a remodeling trade publication that was launched in 1975. Their mission is to provide industry relevant business education and information to their readers. For the last 7 years, they have collaborated with GuildQuality, a third-party customer satisfaction surveying company, to put out their annual Customer Satisfaction Report. The report attempts to answer the question "what does good customer service mean to today's remodeling clients? and identifies those traits that homeowners consider most important when working with a remodeling professional.
As part of their report, they also highlight their top 100 customer service leaders. Classic Remodeling has, once again, been included as part of their top 100 list. Feel free to check out our profile, included as part of Qualified Remodeler's report, to see how we've been handling some of the recent challenges facing the remodeling industry.
Charleston Living Magazine's Best of the Best Award
Each year, Charleston Living Magazine invites readers to vote for their favorite local businesses in a variety of categories. These categories range from best restaurants and shopping to best services and attractions. Results of their "Best of the Best Awards" are announced in their July/August issue where you can find a complete rundown of the winners in each category. For the 9th consecutive year, Classic Remodeling has been named the Best Kitchen/Bath Remodeler in Charleston. Being a local award, voted on by local residents, makes this award very meaningful to us!
This year has been more challenging than many of us expected.  Labor shortages, supply chain issues, and rising material prices have required a lot of adjustments to the way we do business. All of it has been in an effort to ensure that we continue to provide the quality and service that our client's expect. While we don't get hung up on the accolades, we do see this recognition as one measure of whether or not we are succeeding in delivering on our promises. For those that continue to vote for us, or complete project surveys, we thank you for your feedback! Your recommendations are vital to our business!
We are thrilled to announce that Classic Remodeling has won the 2022 Guildmaster with Highest Distinction Award for customer service.  Out of nearly 2,000 eligible applicants, Classic Remodeling is one of 400+ businesses within the residential construction industry recognized by GuildQuality for consistently delivering superior customer care. We're so proud of our team for once again achieving this recognition.
Determining Guildmaster Award Eligibility
Each year, GuildQuality reviews thousands of survey responses submitted by customers of Guildmaster candidates. They consider two primary metrics for each candidate: the percentage of customers who would recommend the business to a friend and the percentage of customers who responded.
In order to receive the Guildmaster Award, candidates must receive a minimum of 20 survey responses and have at least a 50% response rate. In addition, GuildQuality looks at the recommendation rate for each eligible company. This is the most important qualification metric – exemplary customer service.  The average recommendation rate in the construction industry is 70%. GuildQuality requires a 90% or higher recommendation rate in order to receive a Guildmaster Award.
What is a Guildmaster with Highest Distinction?
There are two levels of distinction in addition to the basic Guildmaster Award. Members with a recommendation rate between 95% and 97.9% receive the Guildmaster with Distinction award. The Guildmaster with Highest Distinction is awarded to companies with a recommendation rate between 98% and 100%. Classic Remodeling achieved a 100% recommendation rate in 2021! In addition, Classic Remodeling is the ONLY company in the GuildQuality network who has received the Guildmaster award each year since it's inception in 2005. That's 17 consecutive wins!
We're so proud of our team! They worked hard to ensure our customers continued to have a great remodeling experience, despite the challenges we've faced as an industry over the last year. Supply chain issues and labor shortages have certainly made our job harder, but our team rose to the challenge!
A thank you goes out to each of our clients who completed a GuildQuality survey. We appreciate the time you take to evaluate our performance. With your feedback we wouldn't be able to call ourselves a Guildmaster with Highest Distinction!
Thinking about remodeling in 2022? Maybe you've decided you need a home office now that you are working from home full-time. Or maybe you considered purchasing a new house, but thanks to low inventory and rising prices, remodeling your existing home seems to be the better alternative.
Whatever your specific reason might be, make no mistake – you are not alone. The remodeling industry overall has seen a rise in demand over the last couple of years, and that is certainly the case at Classic Remodeling as well.
While we do our very best to ensure timely scheduling and turnaround, 2022 has proven to be a challenging year (and it's only March!). High demand for remodeling services, combined with labor shortages and product delays have created a larger-than-usual backlog of work.
So what does it take to get through a home remodel in 2022? Here's a few tips for surviving a remodeling project this year:
Carefully Vet Your Contractor
It's busy out there for remodeling companies! And we know you are excited about getting your project started as soon as possible. However, watch out for the contractor who is available to start immediately.
As you reach out to prospective contractors, be sure to ask questions about their process and their timeframe. When will they be able to meet with you for an initial consultation? What is their timeframe for beginning design? When will they be able to be onsite to begin construction?
In this climate, many contractors are having to turn away work because they are so busy. If the majority of company's you talk with are out 8-12 months, but one is available to start your project immediately, you might want to ask why? Be sure to ask for references and check out their work before signing a contract.
Talk About Costs
Talking price can be a tough. It's hard for us too! Especially in these times, when we're seeing price increases in materials and product across the board. And some of those increases have reached historic highs. If you have questions or concerns about your quote, ASK! An experienced contractor will be prepared to answer your questions. At Classic, we are constantly monitoring price fluctuations and we've updated our processes to account for the fluidity in some of those.
Be Patient
Remodeling, by it's very nature, is a stressful process. No matter how much your remodeler tries to mitigate that stress, the fact is you have someone in your home for weeks, maybe months, disrupting your normal routine. Remodeling in 2022 brings a few more challenges. Projects are taking longer thanks to material and product shortages, delivery delays, and labor shortages. We are constantly monitoring product lead times in order to ensure delivery before construction begins.  Unfortunately, we are seeing more and more unexpected shipping delays and in many cases difficulty getting product. Unfortunately, these delays are beyond our control. That being said, your remodeler should keep you abreast of any product delays, to the best of their ability.
The bottom-line is, remodeling today is very different than remodeling was just a few years ago. We're having to find ways to adapt and work around issues on many fronts. But, if you have developed a relationship of trust with your contractor, you should still walk away having a successful remodeling experience. If you are thinking of remodeling in 2022, expect that your project may take a little bit longer and cost a bit more, but if you've done your homework and hired a contractor with clear processes, who will proactively communicate with you, and has a solid reputation for quality craftsmanship the outcome should be the same – a beautiful new space that you love.
Keeping a clean, organized home has numerous health benefits like decreasing stress, improving sleep, and improving focus. Since January is National Get Organized Month there's no better time to clear out the clutter and head into the new year with an organized, clean home.   If you've been thinking about a renovation or have a remodeling project planned, make sure you set yourself up for success in the long-run with a few renovation ideas for an organized home. We've got a few suggestions for the most cluttered rooms in the house – the kitchen and the bathroom.
Before we dive into specific suggestions for the kitchen and bathroom, let's begin with the shell of your home. If you are looking for a feeling of improved organization and cleanliness, start with your floors. Hard surfaces in particular are easy to clean and can help reduce allergens and germs in the home. Beyond that, your paint color can also affect how organized and clean your home feels. Whites and neutrals can help a space feel larger than it is.
Before you begin any remodel or renovation project, it's a good practice to do a thorough clean out. Get rid of anything you no longer use or don't need. It helps make finding places to put the things you do need much easier.
Organizing in the Kitchen
Kitchens are the hub of most households. Where nightly meals are prepared, where family and guests gather for events, and maybe even where homework gets done. So it's a space that can easily become overwhelmed with "stuff." As you head into a remodel, it's good to think about how you use the space and what your needs are. Are you an entertainer with lots of platters and trays to store. Do you need a homework station for the kids? Do you have enough pantry storage? What about those small appliances?
As you think about your kitchen design, consider how you want to store things? Open shelves have been a popular selection in recent years, but in order to not feel cluttered you really need to keep items on them to a minimum. That's why we love our kitchen cabinets. Think about the items you need to store. Customizable cabinets and drawers provide easy access to the things you need regularly, as well as those that only get pulled out occasionally. Your designer can help guide you with some great ideas for how and where to store things like dishes, pots and pans, or spices. Perhaps you can add some specialized pull-outs in your cabinets for frequently used appliances, like a large mixer. Designate a pull out cabinet for trash cans, to keep them hidden from view. Even create a unique storage space for spices, ensuring they are kept near your cooking areas for easy access. The possibilities are endless!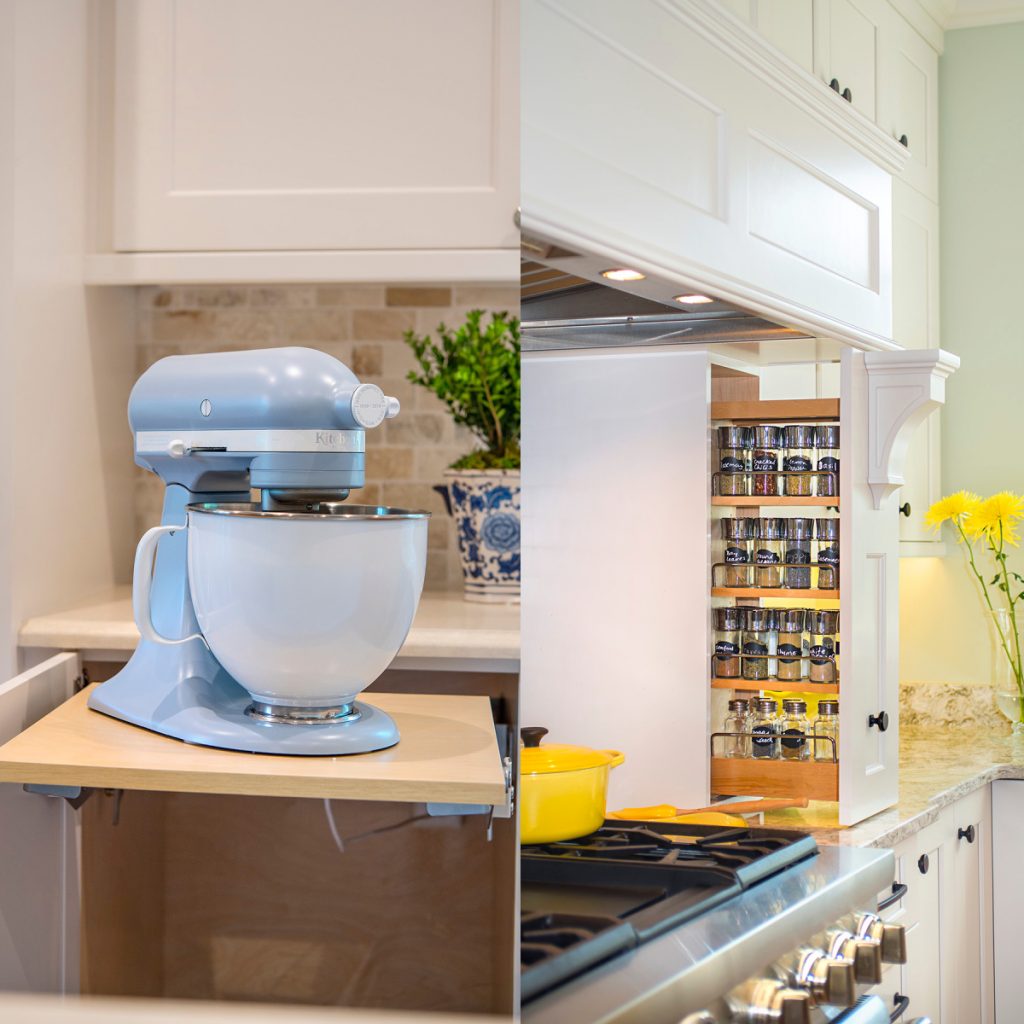 Storage Ideas for the Bathroom
Again, the best way to begin  is to consider how you use the space. Do you need a space for makeup? Consider adding a designated area specific to makeup storage.
Under sink cabinets are great for hiding away extra shampoo and soaps. Consider adding shelves to help keep your cabinets more organized. You can also add customized storage for things like hair dryers. Giving things a designated storage space will help keep things more organized.
If you have linen storage needs consider adding a linen closet or cabinet, if space allows. If you don't have space for a cabinet, try using baskets. They can serve double duty as decor to help soften a space, as well as provide needed storage.
In the shower, built-in shelving or niches are great for providing storage for everyday items. Add hooks or bars for towels or loofahs.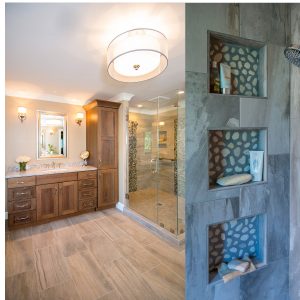 If you need renovation ideas to keep your home more organized, contact us at Classic Remodeling. We'd love to help you create a home to help you feel organized for stress-free living. For more bathroom and kitchen ideas, check out our online portfolio.
A small bathroom doesn't have to feel small. In many cases, a simple remodel of the space can help make your cramped bathroom feel a little more spacious. Here are a few ideas to consider:
1. Remove the tub
Bathtubs take up a lot of space. If you aren't a bath-taker, consider removing the tub altogether.
2. Stick to light/neutral colors
White or light-colored walls, floors, and cabinets will reflect light instead of absorbing it. Non-colors will naturally recede and make your space look larger. Not only that it helps to create a more seamless and cohesive look
3. Let in the natural light
If you have the opportunity, look at adding larger windows or maybe even skylights. Smaller spaces tend to feel darker. By increasing the natural light your room will feel bigger and brighter.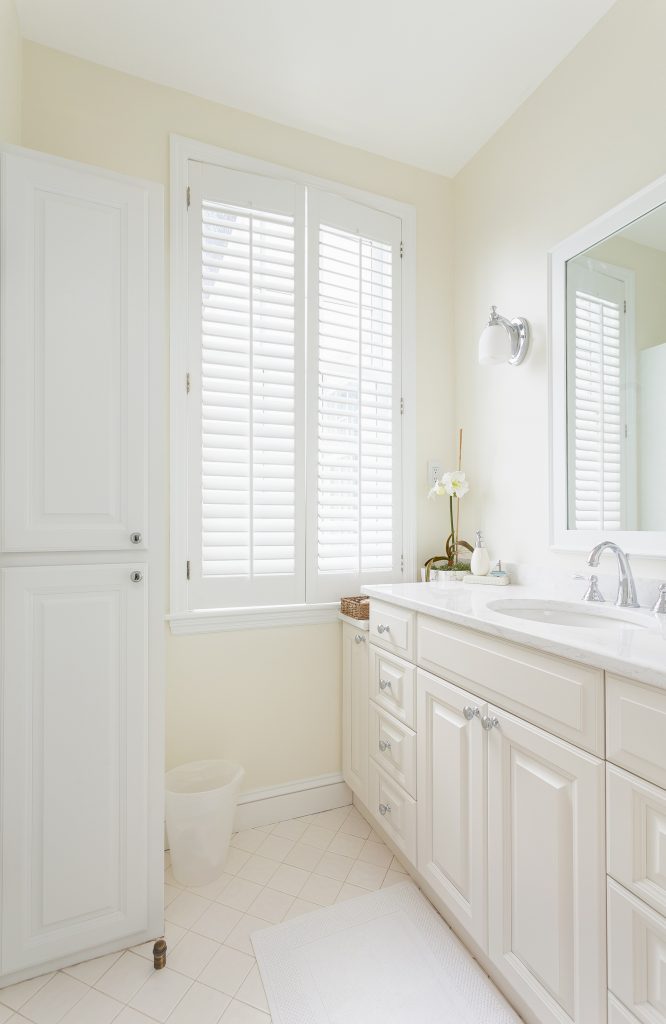 4. Opt for open shelving
Open shelving is a great way to provide storage without needing to install large shelving units or cabinets that might feel too heavy for the room. The open shelves help the walls look farther apart than they actually are and give some depth to the space.
5. Keep floors clear
Utilize things like floating vanities, cabinets and toilets that can be attached to the wall to create an unbroken line of flooring that gives the illusion of more space.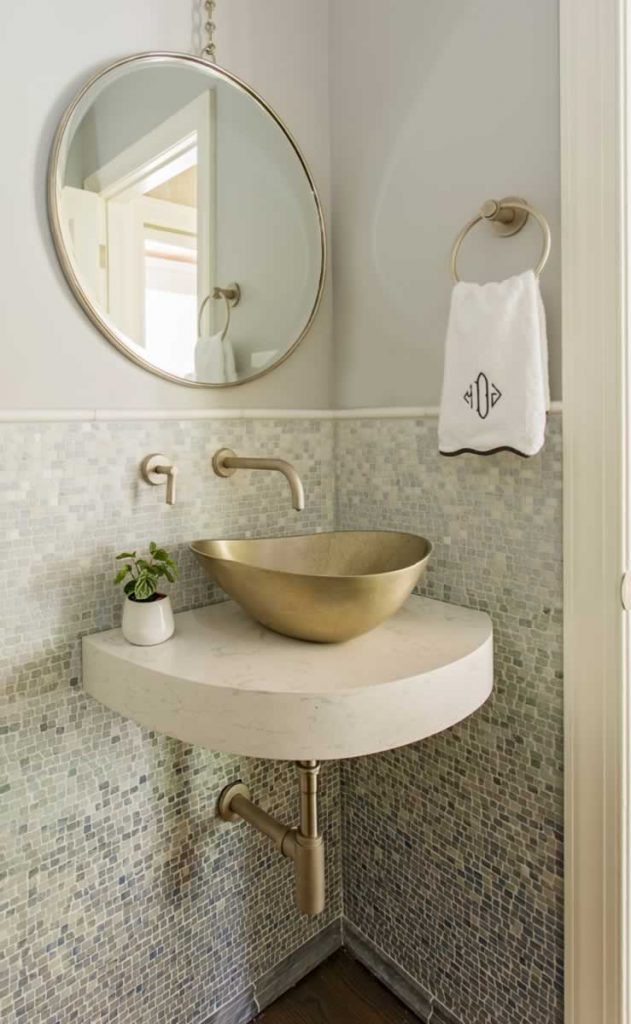 6. Embrace negative space
Don't feel like you need fill every inch of space. if you can stow bottles that may sit on a vanity or move a laundry basket into an adjacent room, do it! Open areas and clean surfaces will help make the room feel less full/more open.
7. Add a big mirror
Oversized mirrors are not only dramatic but the reflective properties can also make it feel like you've doubled the size of your room.
8. Install a frameless glass shower door
By eliminating the frame around the shower door it essentially makes the entire glass panel disappear in the space.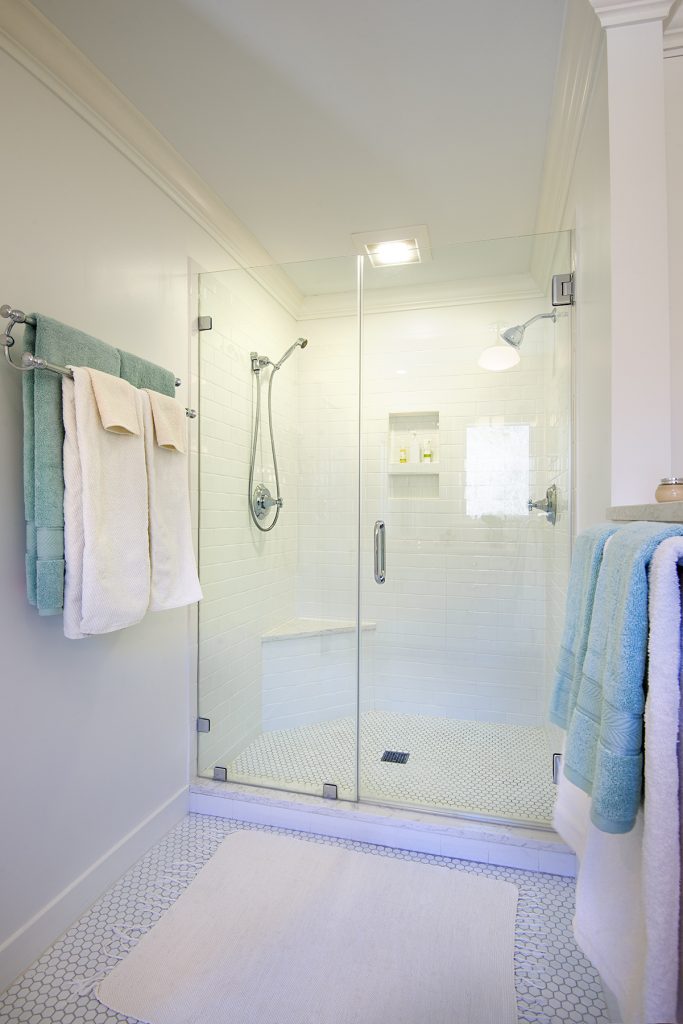 9. Don't mix and match materials
Keeping finishes similar throughout the space, instead of mixing materials helps prevent the space from looking chaotic and cluttered. It's much more pleasing to the eye and feels cleaner.
With some thoughtful design and careful material selection, your small bathroom can feel much bigger than it is!
Like most industries, remodeling has it's own terminology. Understanding some of the more common terms will help take some of the confusion out of your discussions with potential contractors.
Common Remodeling Terms to Know:
Allowance –a dollar amount established in the contract documents for an item that can not be specified in detail. An allowance is generally used when all selections have not been made prior to contract signing. Let's say, for example, you have not selected a ceiling fan for your screened porch. The contractor would include an allowance amount for that item in the contract. That amount would be a ballpark price that would cover the expected cost of that item.
Design-Build – a project delivery method in which both design services and construction services are provided by a single entity.
Change Order – work that is either added to or deleted from the original scope of work as covered by the contract. Change orders can affect the original contracted dollar amount for the project and/or the project timeline.
General Contractor – the company or entity responsible for the daily oversite of a construction project and is responsible for providing materials and labor for the project. The General Contractor also obtains necessary building permits, manages vendors and subcontractors, coordinates the sharing of project information with relevant parties, and manages the project schedule and budget.
Subcontractor – an individual or company hired by the general contractor to perform a specific task for a larger overall project. These are usually specialty trades such as electricians or plumbers.
Fixed Price Contract – an agreement where the price for a service is predetermined and does not vary based on the resources used or time spent on the project. With a fixed price contract the client is afforded some certainty that their project price won't change.
Cost-Plus – an agreement where the client pays the contractor for all construction-related expenses as well as a specific agreed-upon amount for profit.
Preliminary Budget – The approximate cost of a project, based on conceptual design and before the preparation of final plans and specifications. This price is provided to give the client a reasonable idea of the final cost of the project. It is typically accurate within plus/minus 20%.
Conceptual Design – an early phase of the design process that provides a broad outline of the parameters of a project. Conceptual designs are usually void of detail, dimensions and technical notes.
Scope of Work – a document that clearly describes the work the contractor is expected to complete as part of your contract.
Mechanicals – the systems inside the walls including electrical, plumbing, and HVAC
Footprint – the overall dimensions of a structure, including any attached garages or porches.
These are just a few common remodeling terms to familiarize yourself with before starting a conversation with a contractor. Making sure you understand the language leads to fewer misunderstandings and less confusion throughout the process. And if something isn't clear, be sure to ask for clarification!
For questions to ask your potential contract, check out our blog post titled 7 Essential Questions to Ask Before Hiring a Remodeling Contractor.
We're proud to announce that  Classic Remodeling received a 2021 Guildmaster Award for exceptional customer service. This is our 16th consecutive Guildmaster win. In addition, Classic Remodeling is the ONLY GuildQuality member to win the Guildmaster award each year since the award's inception.
WHAT IS THE GUILDMASTER AWARD?
The Guildmaster Award was established in 2005 by GuildQuality. The award recognizes and celebrates home building, remodeling, and contracting professionals who demonstrate the highest level of customer service.
Over the past several months, GuildQuality reviewed thousands of survey responses submitted by customers of Guildmaster candidates. Guildmaster winners must achieve a 50% response rate and a minimum recommendation rate of 90%.
There are three different levels of Guildmaster members can achieve:
Members who receive between 90% and 94.9% for Likely to Recommend earn the Guildmaster level.
Those who earn between 95% and 97.9% Likely to Recommend scores receive Guildmaster with Distinction.
Members who earn between 98% and 100% for Likely to Recommend receive Guildmaster with Highest Distinction.
In 2020 Classic Remodeling received a 100% recommendation rate from our surveyed clients, giving us the honor of being named a Guildmaster with Highest Distinction.
WHAT IS GUILDQUALITY?
GuildQuality is a third-party customer satisfaction surveying company, based in Atlanta. Over 2,000 residential construction professionals rely on GuildQuality's customer satisfaction surveying and reporting software. This software helps them deliver exceptional customer service and get the recognition they deserve for their commitment to quality. Classic Remodeling has been a GuildQuality member since 2003.
We would like to thank all of our clients for participating in the GuildQuality survey process. We use your feedback to find ways to improve the remodeling experience. At Classic Remodeling, we make customer service a top priority. Thank you for your part in making Classic Remodeling a 2021 Guildmaster Award winner!